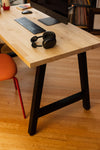 Quick Ship | A-Frame Table & Bench Leg | 28" x 26" | Jet Black Satin | Set of 2
Sale price
Regular price
$356.99
$309.99
This listing is sold as a set of 2 legs as part of our new Quick Ship program. Orders placed by 12pm PT will ship same day!
--
Taking cues from mid-century architecture and furniture, the simple A-frame shape is perfect for various seating and storage solutions. With a middle crossbar, you can slide a piece of wood or another surface across for added functionality.
What will you create? Whether it's a warm wood-topped dining table or a cool modern workbench, the iconic A-frame makes it easy to blend form and utility.
These A-Frame Legs are precision manufactured from 2" x 2" recycled, American made, tube steel in our Nevada factory.

With a clean profile and striking silhouette, they suit a variety of styles including modern and industrial. Each A-Frame Leg is engineered to hold up to 400 pounds of weight.
 Leveling feet will add 0.25" to 1.5" to the height depending on how far you screw in the foot.
Hot-rolled ASTM A513 steel
A-frame 2" x 2" tube steel wall thickness: 0.12"
Top plate width: 4"
Top plate slots: 0.25" diameter, 0.5" width
Minimum yield strength (yield point): 72,000 psi
Ultimate tensile strength (break point): 87,000 psi
Weight capacity (per leg): Up to 400 lbs static vertical load

Threaded inserts for leveling feet are included in every order.
For our full return policy click here