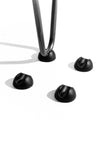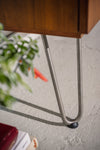 Hairpin Leg Floor Protectors
Sale price
Regular price
$10.00
$5.00
These black rubber floor protectors will keep those wood or marble floors looking nice and clean, and keep your table or desk from sliding around!
Size options for 3/8" and 1/2" diameter hairpin legs 
Fits 2-Rod and 3-Rod hairpin legs
Adds 1/4" height to the bottom of your hairpin legs
1" diameter for secure fit
Included with the purchase of 3 or more hairpin legs
Sold as a 4 Pack
Lead Time: these items ship out in 1-2 business days if ordered separately.
Find our full shipping, order change, and return policy

 

here.
Size concerns
Although I have not yet used this most recent purchase of floor protectors I am concerned that the protectors can be used effectively on both 3/8 inch and 1/2 inch legs. I spoke with someone at the company about this and I hope this has been addressed but there seemed to be a belief that "one size fits all" and that was not my experience. For that reason, maybe this review is premature. Other than that issue, the floor protectors are an excellent product, as are the hairpin legs.
Hi George - please do reach out if you need anything. We offer both 3/8' and 1/2' floor protectors, so you should be all set!
Super Super Amazing!!
High quality fabrication. The legs are rock solid. Way beyond anything I expected. These would cost a fortune from a custom job shop.
Great look everything I hoped for.
Love the legs!
Great quality. They are very responsive to emails. I ordered a larger size of legs and they were going to take longer than expected and they offered a smaller size that they currently had in stock and shipped. The legs were delivered in a timely manner.
Great
They were exactly what I needed and the customer service was great.