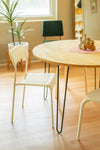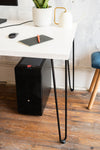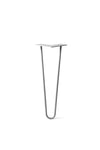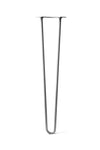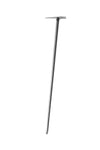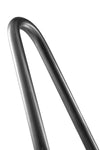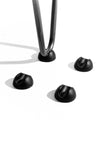 Hairpin Legs
Sale price
Regular price
$20.00
$10.00
If you're looking for 4 or more units, check out our Set of 4 Hairpin Legs.

Individual hairpin legs are timeless and easy to use to make your next project.

Built to support hundreds of pounds each, our hairpin legs are constructed from recycled, cold rolled steel in either 3/8" or 1/2" diameter. Choose from 4" to 40" in height and from our various powder coated colors.

Credenza / Furniture Feet / Cabinet Height: 4" - 10"

Coffee Table Height: 12" - 18"

Bench Height: 16"

Desk / Dining Table Height: 26" - 30"

Countertop Height: 34" - 36"

Standing Desk / Bar Height: 40"
| | |
| --- | --- |
|  Largest Selection | We offer sizes from 4" to 40". Find the perfect height hairpin legs for your custom build! |
| Commercial Grade | Built for professionals, designers, makers and DIYers alike. |
| Highest Quality Recycled Steel | We use cold rolled steel instead of hot rolled steel for a higher-quality finish and stronger legs. |
| Solid Complete Welds | Creates super-strong hairpin legs that will last you a lifetime. |
| Rated for Hundreds of Pounds | Each leg is built to support hundreds of pounds of pressure. We've even welded them to a car, and they did just fine! |
| Powder Coated | Unlike most hairpin leg companies, we powder coat all of our colors to provide the best finish.  |
| Floor Protectors Included | FREE floor protectors are included with a purchase of 3 or more hairpin legs. We offer both 3/8" and 1/2" custom fit floor protectors. |
| FREE Maintenance Kit | FREE Maintenance Kit included when you order 3 or more Raw Steel Hairpin Legs. |
| | Proudly made by our wonderful teams in Wisconsin and Nevada. |
For all raw steel products, we include one maintenance kit with an order of a set of legs (four legs).

Our raw steel maintenance kit includes:

Wax - To polish your legs and protect them indoor wear and tear

Applicator pad

Screws (#8-11 x 1-1/4" Phillips Pan Head Coarse Thread Black Phosphate/Wax Screws) to attach the legs

Raw steel maintenance instructions so your legs endure over time.

Notes:
Bulk orders do not ship with maintenance kits or floor protectors unless ordered separately.
Raw Steel:
Ships in: 2-4 Weeks
Powder Coated:
Ships in: 2-4 Weeks
Shipping Options:

We ship to residential & commercial. Parcel, ground, express, LTL, & truckload.
Select your shipping option at checkout.

Shipping Confirmation:
We'll send a tracking confirmation as soon as your order ships.

Click here for our exchange and return policy.
Base Plate/Mounting Bracket Dimensions:
Diameter
Material
Best Uses
3/8" Diameter
Recycled, USA Milled, 1008 Cold Rolled Steel
Standard projects (up to 500lbs).

Hairpin Coffee Tables, Hairpin Leg End Tables, Hairpin Leg Desks, Hairpin Leg Dining Tables.

1/2" Diameter

Recycled, USA Milled, 1008 Cold Rolled Steel


The best for your heaviest of projects (up to 800lbs) or wherever you want a thicker hairpin leg.

Hairpin Coffee Tables, Hairpin Leg End Tables, Hairpin Leg Desks, Hairpin Leg Dining Tables, Standing Desks, Workbenches, and more.

Raw steel hairpin legs come from our facility with a slight rust-inhibitor for transit.

Once received, wipe the rust inhibitor off with any degreaser/cleaner and they are ready for treatment to prevent rust. You can use our wax maintenance kit or any appropriate coating for protection.
Powder coated hairpin legs come from our factory ready to go.

We recommend cleaning powder coated hairpin legs with a soft cloth or soft-bristle brush. It is okay to use a mild detergent and warm water on the powder coated areas. Clean regularly for best results and a lasting finish. Wipe down and rinse with fresh water.
We care about making a quality product that you can be proud to put on a piece of furniture in your home, at your office, or better yet, on something that you're making for someone else.

Through our own personal experiences, we know the connection that can be created by making a special piece, so we take the utmost care to make our products special for you.
Read more about our warranty here.
cookie legs
I purchased 6 hairpin legs for two cookie tables that I was making and was quite happy with how carefully they were packaged for shipping. Upon assembling the legs to the cookies, the resulting tables were quite sturdy and did not move. I appreciate the ability to select the size and color and how high quality the resulting product was. I would order more from here for future projects.
hairpin legs
I'm very happy with the hairpin legs I ordered. The size was perfect. I wanted them for a countertop I installed in my kitchen. I will tell my friends about this company. Affordable, quality, timely!!
Fixed a three legged table
Ordered a hairpin leg that fit perfectly and I now have a four legged table my boxer can jump on without tipping it. Fast shipping and quality is excellent. Thanks.
Quality produc
The hairpin legs are exaclty what I needed. My only complaint was that I ordered 6 legs, but only received enough screws and floor protectors for 4 legs. Other than that I was totally satisfied with the product.