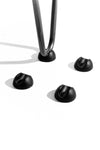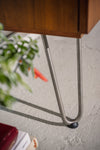 Hairpin Leg Maintenance and Hardware Kit
Sale price
Regular price
$20.00
$10.00
Raw steel needs to be sealed to prevent oxidation (rust), but a whole can of wax is $10+. We got you covered with just enough for 4 legs!
Need 16 x 1-1/4" wood screws with a pan head? Hard to find huh? We got you!
Oh, you just need 1 sponge to clean up and seal your nice legs? We got you!
Need a cool box that you can use for your kid's favorite Legos? We got you!
Contents:
4 - Black Rubber Floor Protectors
16 - #8-11 x 1-1/4" Phillips Pan Head Coarse Thread Black Phosphate/Wax Screws
1 - Scotch Brite / Sponge Combo Pad
1 - Jar of Furniture Wax
1 - Cool Box
1 - Instruction Card
Lead time: these items ship in 1-2 business days when ordered separately.
Save yourself $20 and take advantage of us scooping out wax into little jars and counting screws until we lose our minds!
PS. this kit comes FREE with every set of 3 or more raw steel hairpin legs. 
the legs were perfect for my farm hose table i did not use the small screws but drilled out the holes for a larger bolt.
Exact!
Great product, just as we hoped! Design change but were sure to order a replacement! Thank you! Quick and easy ordering and delivery!
Great product - timely delivery - good instructions
Thank you for the DIY blog entry on how to make our own desk! The legs were great. The size was accurate.
We received our order in record time. Loved the soft yellow of the hairpins legs. Total satisfaction with the order. Fast, accurate, and wonderful products!
Great Product/Customer Service
Had issues with our initial order/shipping, but Melissa was great and rectified the situation and got our order pushed through. The second time through, our order got to us quickly with no issue. Super happy with the legs! Thank you!